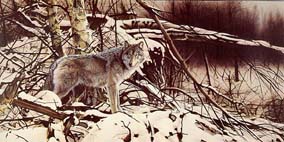 Here is a link to one of the best fantasy artists I have ever seen! I thank her very much for allowing me to use some of her magnificent artwork on my page!
Ruth Thompson's Tarnished Images
Here it is, my favorite online comic! The adventures of a rabbit and the she wolf he married. Hilarious for carnivores and herbivores alike!!
Here is a place where I house my thoughts and the journeys in my life. Take a look if you wish to explore the deeper side of this wolf.