Here is a beautiful gift plate from Steele Grafix, isn't it wonderful?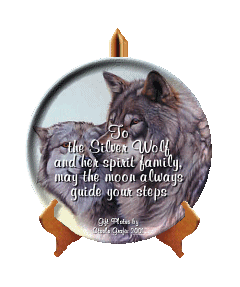 This poem is a gift from a dear friend of mine. All my thanks.

Shadow walks amidst shadow
Silent paws over a carpet of foliage.
Starlight streams through the broken canopy
Upon the silver fur it dances.
Golden eyes ever watchful
Over a forest covered domain.
Calm, wisdom governs the land,
Viscious loyalty protects.
Heed the warning of the growl
But relish the howling song.
Trusting friends enter free
To the realm of this lupine.
Know the blessing of the moon
Smiles down upon the den
Of justice, Silverwolf.