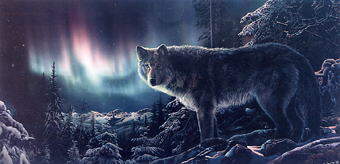 Looking for a howling good time? Well you found fun on four paws here, brothers and sisters!
Well, where should I begin. For one thing, I'm a wolf whose territroty ranges from Denver, Colorado (my birthplace) to Winston-Salem, North Carolina! It takes a lot of time to cover that distance by paw, so usually I fly. I'm a student at Metro State College of Denver, and I am hoping to get my degree in Theatre. One day, perhaps you'll see my mark in lights as I hope to become a playwright one day! My friends are as diverse as they come. I've befriended otters, bears, leopards, falcons and all other manner of creatures who have made me immensely happy.
Some individuals crochet, some knit, some draw, some paint. Well, this wolf happens to love swords. I enjoy working with blades, and I have a certain proficiency with them. I also enjoy spending time with my very close friends.
This wolf also happens to follow the Norse paganistic path. My beliefs are an amalgamation of Odhinism and Asatru. I am studying to be a runemaster, and you'll find a dictionary of runes on this site. If you have any questions, feel free to contact me!

My pack is an odd bunch of creatures, and I love them dearly, so please don't cross my friends, or me...I don't have the best of tempers after all...